Norfolk County Council told of large budget cuts to come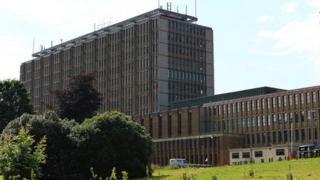 Norfolk County Council has been given an early warning of annual cuts needed to its £308m current budget up to 2020.
The council's new policy and resources committee said there will be a £3.8m shortfall in 2015/16, £18m in cuts the following year and £51.7m in 2017/18.
Further cuts of £61m are needed up to 2020 while demand for services increases and government support falls.
The lower shortfall in next year's budget results from "efficiency" cuts already identified, a spokesman said.
But members were warned shortfalls will rise dramatically in the following years as demand for services increases and government support falls further.
Interim Director of Finance, Peter Timmins, said the council will now have to change tack from the search for efficiencies to looking at priorities.
Council leader George Nobbs said committees meeting in July would be asked to identify their priorities for the years ahead.
The report was a reminder that the sort of support from central government that local authorities had been used to "is now a thing of the past", he said.
"That is something that county councillors of all parties have to take on board."
The council is run by an alliance of Labour, Lib Dems and UKIP.