£10m fundraiser for new Norfolk young persons' hospice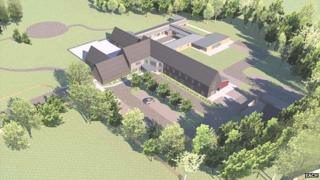 A children's charity is hoping to raise £10m to build a new hospice for its young people.
East Anglia's Children's Hospices (Each) was granted planning permission to replace its aging facility in Quidenham, Norfolk, earlier this week.
But chief executive Graham Butland said it was facing a "challenge" to raise money to build the site.
The new hospice would include a hydrotherapy pool and improved accommodation and play areas.
It is due to be built on a five-acre (2.02 hectare) woodland plot in Framingham Earl, south of Norwich, after being given the go-ahead by South Norfolk Council.
Mr Butland said: "The current Norfolk hospice has provided care and support for more than two decades and has been a home-from-home for families.
"But it's very restricted in its facilities and development and a new hospice will bring the county in line with services we offer in Cambridgeshire, Essex and Suffolk.
"We're over the first hurdle in gaining planning permission, but we've now got the challenge of encouraging the good people of East Anglia to help us raise the funds needed to build and equip the new hospice."