RAF Marham airman John Yelland jailed for guns hoard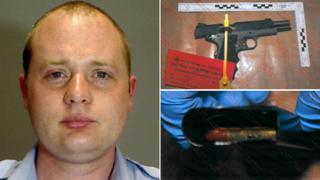 An RAF airman has been jailed for six years for a string of weapons offences, including attempting to manufacture a sub-machine gun.
John Yelland, 28, who was based at RAF Marham in Norfolk, admitted eight charges, which also included possessing a handgun, Taser and pepper spray, at Norwich Crown Court.
His wife, Maimie Yelland, admitted assisting in the posting of one of the weapons.
She was jailed for six months.
A number of illegal firearms were found at Yelland's home in Marham, including stun guns and a deactivated Sten sub-machine gun.
Documents relating to the recommissioning of firearms and moving them within the UK and abroad were also found.
Ch Supt Nick Davison said: "Yelland thought nothing of making and storing the weapons and it is pleasing to see this man behind bars with a lengthy custodial sentence."
The RAF said Yelland had been a motor transport driver with the rank of senior aircraftsman.
A spokesman said: "In accordance with Queen's Regulations for the Royal Air Force, when a serving member of the RAF is sentenced by a civil court to a custodial sentence, notwithstanding any appeal lodged against conviction, they will not be retained in the service."