Holt man warned over malicious letters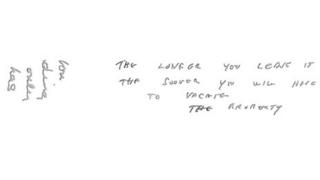 A man has been given a police warning over a spate of malicious letters sent to people in and around a Norfolk town.
About 15 handwritten letters had been sent to homes in Holt and surrounding villages over the past 12 months.
One was released by police and said: "The longer you leave it the sooner you will have to vacate the property."
Police said a local elderly man was spoken to, admitted sending the letters and officers were satisfied he had "not intended to cause distress".
"Following consultation with victims, and taking all factors into account, the matter was dealt with by way of a verbal warning," a spokesman added.
Sgt Damon Money said: "He was remorseful for his actions and, having spoken to him at length, officers were satisfied that, although inappropriate and misguided, the letters were not intended to cause distress.
"He has made assurances that no further letters will be sent and the victims we have spoken to are content with this outcome."