Future of 'step aside' PCC Stephen Bett to be debated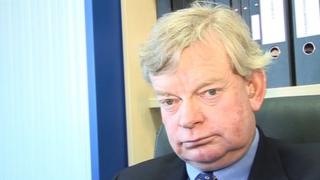 The future of a police chief who has stepped aside during an inquiry into his expenses is to be debated by a scrutiny panel.
Police are investigating mileage claims made by Norfolk Police and Crime Commissioner Stephen Bett.
Norfolk Police and Crime Panel meets on Friday to discuss five issues surrounding Mr Bett's position including whether to ask him to resign.
The Norfolk PCC office said: "We await tomorrow's meeting with interest."
A report to the panel says there is a "lack of legislative basis" for a commissioner stepping aside and it has "no power to appoint an acting commissioner".
Options to be considered include asking Mr Bett to resign, continue with his duties as normal or reconsider his legal position in terms of his decision to take temporary leave.
'Huge reluctance'
Other options include asking Mr Bett to explain to the panel how his duties could be fulfilled during his absence and asking the home secretary whether action should be taken over his decision to continue taking his salary.
Last month, the Home Office confirmed Mr Bett was still entitled to take his £70,000 salary, even though he will not be working.
Mr Bett paid back more than £2,700 for his trips between home and work after the BBC revealed he had claimed more than £3,000.
He said in June he would temporarily step aside with "huge reluctance".
The Home Office said it understood Mr Bett's deputy Jenny McKibben would take over in his absence.
In November, the BBC revealed Mr Bett had claimed for 96-mile round trips from his home in Thornham, near Hunstanton, to police offices in Wymondham.
The issue was then referred to the Independent Police Complaints Commission by the panel, which is responsible for scrutinising and supporting the work of the commissioner, following two complaints from the public.