Fakenham fire: Replacement Aldiss building to make town 'proud'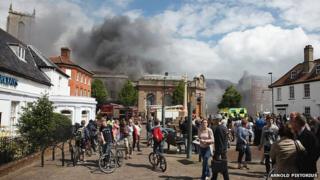 A fire-ravaged town centre in Norfolk could get a new look to echo its past, a retired businessman has promised.
The historic Aldiss building in Fakenham Market Place was badly damaged by fire along with other premises in May and is being demolished.
Tim Aldiss, who headed the family retail firm, wants a replacement that residents will be proud of and that complements the Georgian Market Place.
An investigation report into the cause of the fire is expected soon.
Company secretary Tim Summers is managing the redevelopment of the site and said Mr Aldiss wanted all those affected by the fire to be involved in the design of a new building.
"The original Aldiss building was Georgian style but this was changed during the 1930s," he said.
Help fund established
Mr Aldiss has long admired the Georgian character of Fakenham's Market Place.
But he said the fire had destroyed the building where he had learned the retail trade.
"He was grateful to the town's residents and others across Norfolk who had rallied to support those made homeless by the fire or whose businesses had been hit," said Mr Summers.
"Residents who lost their homes have been found new accommodation and shops damaged or destroyed have been found new premises."
The Eastern Daily Press newspaper organised a help fund.
The next step is to create a design for a building that could be partly residential as well as retail and Mr Aldiss wants to bring together planners, conservation officers, businesses and residents.
The Aldiss furniture business moved to a new superstore in 1990 and the building was occupied by The Original Factory Shop when the fire broke out on Sunday 25 May.