Norwich magistrate Paul Postle treats patient in court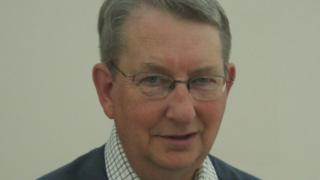 A magistrate who has just retired from his job as a paramedic leapt to the aid of a defendant who collapsed in court.
Paul Postle treated the woman at Norwich Magistrates Court then issued a 12-month conditional discharge, said the Eastern Daily Press.
The woman, who admitted failing to send her child to school regularly, told him she was upset after someone told her outside court she could go to prison.
He was one of three magistrates there when the woman "keeled over sideways".
Mr Postle, 65, from Bowthorpe, was a part-time paramedic until a few weeks ago when he retired.
'All a bit much'
"I ascertained the lady had a pulse and was breathing," said Mr Postle, who left his job as a nurse at the Norfolk and Norwich Hospital four years ago due to ill health.
"She had fainted and when I spoke to her she started to respond after a few minutes.
"She told me she had found it all a bit much as somebody had told her outside the court that she could go to prison for the offence."
The woman was given a glass of water and Wednesday's proceedings were adjourned for 10 minutes while she regained her composure.
"After speaking to her solicitor, we allowed her to plead her case from the public gallery rather than standing in the dock," said Mr Postle.
"It is the first time I've seen anything like that happen in court and I've been a magistrate for 20 years.
"Compared to some things I've experienced in my past, it was a minor incident but for the patient it was traumatic."