North Sea helicopter descent due to 'undetected errors'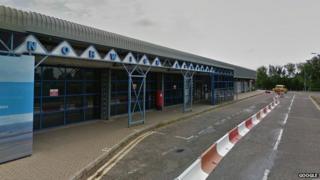 A helicopter descended to within 50ft (15m) of the North Sea when the crew thought the autopilot was incorrectly functioning, a report has found.
The Air Accidents Investigation Branch (AAIB) report said the "serious incident" took place on 6 November.
It found the crew "rapidly" became "disorientated to the extent that their ability to control the helicopter safely was compromised".
The helicopter was en route from the Clipper gas platform to Norwich.
The two-man crew and eight gas platform workers eventually landed safely at Norwich International Airport.
'Underperforming' helicopter
The report found the aircraft's "apparently poor performance" was because of "weighing and fuel gauging errors which had existed undetected for some time".
The aircraft had just taken off from the platform when the crew realised it was "not transitioning to a climb as they expected, but was in fact still descending and accelerating", according to the AAIB.
The Eurocopter EC155B1 fell to about 50ft (15m) from the sea surface and its airspeed was reduced to below 20 knots (23 mph), before the pilot climbed to normal cruise height.
The crew "clearly believed the autopilot was not functioning correctly both during and after the event", the report continued.
The investigation concluded the direct effect of the instrumentation errors was "to cause the flight crew to believe that the helicopter was underperforming and therefore was a major influence on the commander's subsequent actions".
The AAIB said a number of safety actions had been taken following the incident, which occurred two months after a Super Puma helicopter crashed off Shetland killing four people.
Earlier this week, MPs called for a public inquiry into whether commercial pressure from oil and gas companies affects offshore helicopter safety.