European eagle owl Sam found close to his Fakenham home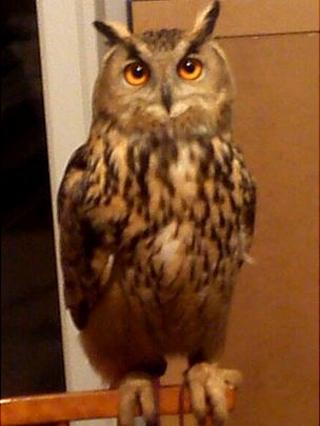 A bird of prey that went missing and was believed stolen from a garden in Norfolk has turned up safe and well about half a mile (850m) from its home.
Sam, a European eagle owl, disappeared from his home in Tunn Street, Fakenham, last month.
"An eagle-eyed member of the public spotted the owl on Thursday at about 09:00 BST sitting on a fence in Pudding Norton," police said.
Officers established it was the missing eagle owl and returned it to its owner.
According to falconry experts the European eagle owl is the most ferocious animal of its type.
It normally lives in mountainous areas or on cliffs and feeds on rabbit and hare. It is even known to snatch foxes and small deer.
The eagle owl had been with its owner for about a year and went missing early on Friday 27 June.