A47 Terrington St John road death woman 'was pushed'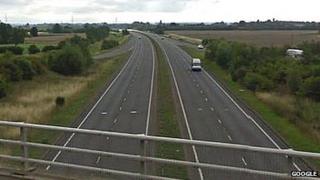 A female pedestrian killed on a busy carriageway may have been "forcibly pushed" into oncoming traffic, police say.
The as-yet unidentified woman was walking along the A47 at Terrington St John before her death on Sunday.
She was with a man who also died in the collision with a Kia and BMW car. Both were walking barefoot, it is thought.
Det Ch Insp Paul Durham said he had "sufficient cause for concern that this was more than just a tragic accident".
Norfolk Police, which is treating both deaths as suspicious, said post-mortem examinations revealed the man died from head injuries while the woman suffered multiple injuries.
Det Ch Insp Durham said: "The incident is now being treated as suspicious, with the focus being on a line of inquiry which suggests that the woman was forcibly pushed into the carriageway.
"I'm appealing to anyone who was in the area at the time and may have witnessed the collision - or seen the two pedestrians shortly before the collision - to come forward, no matter how insignificant the information may seem to them."
The man is described as white, 6ft 1in tall, slim, with short dark hair. He was wearing blue denim shorts and a grey t-shirt.
The woman is described as white, 5ft 7in, slim, with long auburn-coloured hair.
She wore a bright pink t-shirt and black knee-length leggings.
No-one else was hurt in the crash, which happened at 14:15 BST.