£2.3m Hemsby coastal erosion bid rejected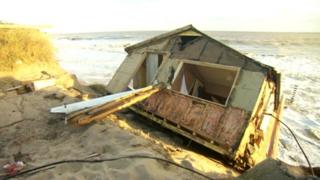 A campaign to protect a Norfolk seaside community hit by the storms in December has failed in its bid for £2.3m funding to help fight coastal erosion.
Three properties fell into the sea at Hemsby and four more were "seriously undermined" in the storms.
Save Hemsby Coastline said it was "quite disappointing" to have missed out on the government's Coastal Communities Fund (CCF) money.
The group was told there had been "very high demand" for funding.
Rona Alexander, head of funding, said in a letter to the group: "Your application was unsuccessful because we decided other applications offered us a stronger fit with the CCF outcome.
"We experienced very high demand for funding from this programme, and other applications demonstrated more strongly how their project would achieve the Coastal Communities outcome."
Ian Brennan, chairman of Save Hemsby Coastline, said: "We think we had a really strong case.
"All the people we talk to are getting our message except the people who decide budgets.
"We believe investment will bring more people to the village."