Cromer Pier refurbishment plans after tidal surge damage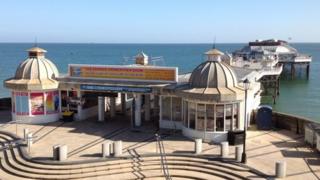 Norfolk's Cromer Pier, which suffered "significant damage" in last year's tidal surge, is set to be refurbished with an improved box office, gift shop and restaurant.
The Grade II listed structure was badly hit in the overnight storm on 5 December 2013.
The box office and parts of the theatre were destroyed, along with sections of decking.
The next stage of work, which will cost £200,000, is due to start in September.
The improvements are expected to take eight weeks, and follow completion of repairs to the pier's supporting structure.
Glyn Williams, North Norfolk District Council's cabinet member for leisure and cultural services, said: "The pier is a vital asset, not only for Cromer but for the whole of the North Norfolk area and helps to bring in visitors from all over the country."
Renovation work was being carried out on the pier in the 18 months before the tidal surge.
Mr Williams said it had potentially saved the structure from far greater damage.
"All efforts are now focused on refurbishing those structures that are still out of action as quickly as possible while being mindful of the summer holiday season," he said.