'Mammoth' returns to 'walk' on Norfolk coast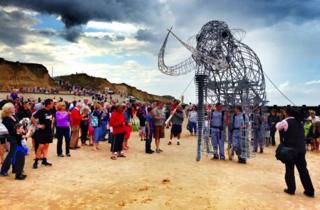 A "mammoth" has walked along a beach in Norfolk retracing the steps of its extinct ancestors that roamed the area more than 700,000 years ago.
The life-sized replica of the animal, the remains of which were found in West Runton in 1990, has been created by aircraft engineer Jeremy Moore.
The skeleton, one of the most complete ever discovered, was found after coastal erosion exposed a pelvis bone.
Four people helped "walk" the structure along the beach.
It has taken Mr Moore three months to create the plywood replica, standing about 13ft (4m) tall, which has been placed on the site of the original excavation.
The creature's remains were discovered by local residents Harold and Margaret Hems while walking on the beach.
The first exploratory excavation took place in 1992, followed by a major dig three years later.
Scientists identified the bones as the species Mammuthus trogontherii, the largest animal to have ever lived on land except for the very biggest dinosaurs.
The animal, which was in its prime at about 40-years-old, would have weighed 10 tonnes - nearly twice the size of an African elephant. It became known as the West Runton elephant.
Susie Lay, who had the idea to recreate the mammoth, said the project had been "an amazing seven years of planning in my mind".
"It sounds a bit grand to call it a vision, but I could see the elephant walking down here [on West Runton beach] after visiting Gressenhall Museum and seeing the bones in storage there."
The replica will be exhibited at Gressenhall Farm and Workhouse Museum with plans for it to be taken on a tour of schools.