Thorpe St Andrew to Whitlingham ferry to relaunch after 70 years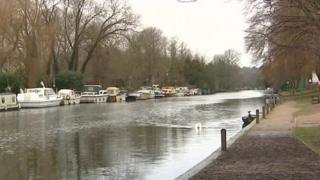 A passenger ferry service which last ran on the River Yare in Norfolk before World War Two is to be reintroduced.
Thorpe Ferry will link Thorpe St Andrew, near Norwich, with Whitlingham Country Park from spring 2015.
Kingfisher Yard owner Stephen Ellingham was asked by Thorpe St Andrew Town Council to revive the service.
He set up the Thorpe Ferry Community Interest Company and has secured grants to raise the £19,000 needed to set up and run the ferry in its first year.
'Five-mile trip'
Mr Ellingham said the town council was interested in reviving the service to "increase accessibility" to the country park on the south side of the Yare for the residents of Thorpe St Andrew.
"At the moment, people wanting to access the country park have to drive all the way into Norwich and out, which is a five-mile trip," he said.
From May until September, up to four passengers, with bicycles, will be able to take the four-minute, 229ft (70m) ferry journey between Kingfisher Yard, in Bungalow Lane, and a former sugarbeet loading bay.
Mr Ellingham will run the 13ft (4m) dory between 09:00 and 18:00 BST as an "on demand" service, with passengers ringing stainless steel tubular bells on the southern side to attract attention, or calling a mobile phone number to book the ferry.
He added they would be charged "a nominal sum of £1 per person and per bike for each journey".
The scheme is funded by a Broads Authority sustainable development grant of £9,750, with financial support from the town council, other funding bodies and a crowd-funding site.