Norwich boys re-enact WW1 battles in garden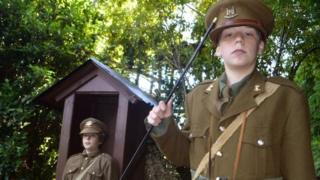 Two boys whose great, great grandfather fought in the first major World War One battle at Mons have been re-enacting scenes from 1914 in their back garden.
Brothers Ethan and Reuben Harvey, from Norwich, built a miniature battlefield complete with a trench, look-out tower, fake tank traps and a sentry box.
The boys dress up in period costume and re-enact "going over the top".
The two boys said they were very interested in military history and wanted to commemorate WW1 in some way.
Their memorabilia, including medals, uniforms and a genuine 1914 rifle, is kept in the attic of their home.
Ethan, 14, said: "We've always had an interest in military history and we thought with the centenary coming up it was important to mark it in some way.
"We've lined the trench with sandbags and we've tried to keep it as authentic as possible.
"We wanted to commemorate what happened 100 years ago as tribute to those who made the sacrifice."
Fake barbed wire
Their great, great grandfather Frank Williams served with the 15th Royal Hussars and was among the first soldiers to be sent to France.
Reuben, 11, explained they had recreated tank traps using old beams of wood.
"We've put some fake barbed wire around them to make it look realistic," he added.
They have also erected a memorial to the fallen and have planted poppies around it.
Their father Richard, 48, an engineer, did much of the building work but said the boys could take full credit for the detail of the project.