Norwich Theatre Royal sets stage for £3m education centre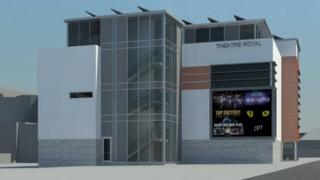 Plans to develop a £3m-plus theatre education and skills centre in Norfolk have been revealed.
The Norwich Theatre Royal aims to create the "ambitious" centre, which has already secured 60% of funding, on the site at the back of their building.
Chief executive Peter Wilson said the project will equip thousands of children with the "confidence, ambition and skills to succeed in life".
A planning application has now been submitted to Norwich City Council.
The new centre, build on the site of the theatre's old wardrobe store, will house an 80-seat performance space.
It will be used by junior and adult performers taking part in the theatre's in-house arts courses whose alumni include Hunger Games and Pirates of the Caribbean star Sam Claflin.
Grant applications have been submitted to secure the remaining funding. If planning permission is granted the building is expected to take nine months to construct.