Box of puppies left at Rainbow Meadows horse sanctuary in Norfolk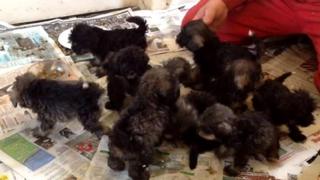 A box containing 12 puppies and six dogs has been dumped outside a horse sanctuary in Norfolk.
The sanctuary's Owner William Hand and his son Nathan found the box outside the gate at Rainbow Meadows in Foulsham on Wednesday.
They are hand-rearing the puppies, which have been assessed by a vet.
"Some people leave me apples or blankets for the horses... but not a load of puppies in a box. Just dumping animals is not on," Mr Hand said.
His son Nathan, said: "It was a shock, I thought I was seeing things. I saw the condition of them and went and got my dad because I didn't really know what to do."
William Hand said: "They were emaciated and we spent all night washing and bathing them in puppy shampoo.
"Some were very poorly and couldn't move but now they're running around and eating food."
'See them right'
He said a surgeon from Broadland House Vets in Stalham spent four hours examining the dogs on Thursday and had given their time for free.
"They were wonderful. I'm just paying for the medicine as they have worms and conjunctivitis.
"The poor mites have really been through the wars, but I will see them right. When they are healthy I'll find good homes for them."
A spokesman for the RSPCA said the vet had confirmed Mr Hand was able to care for the dogs, adding: "We are very concerned to hear about the dogs and puppies abandoned in such numbers in this way, but very grateful to the people at the sanctuary who are caring for them.
"Unfortunately we see far too many cases of animals being abandoned in this way, often in terrible conditions which cause horrible suffering and often death.
"So far this year there has been 334 complaints about dogs being abandoned in Norfolk alone, up from 281 in the same period last year."