Norfolk Young Farmers' Club create straw bale sculptures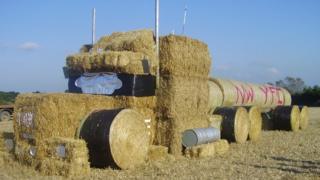 Giant sculptures made out of straw bales are springing up across Norfolk.
Unsightly bales are being lifted from fields and turned into towering structures of lorries, tankers, combine harvesters and pigs.
The campaign was inspired by chairman of Norfolk Young Farmers Anthony Boesen, who said the structures were on roundabouts and "prominent land".
He hopes the 11 roadside figures, many on farming themes, will encourage people to become new members.
70% straw
"Some of our members are not involved in farming but are looking for a club that does things.
"We have raised thousands of pounds for charity with events and activities that members take part in and we want to attract more members.
"We hope the sculptures will draw young people's attention to us."
The first sculpture was set up at the weekend and they will remain in place until the end of October.
Administrative apprentice at Norfolk Young Farmers, Holly Garrod, said: "The sculptures can be on any theme but must be made from 70% straw and permission must be obtained landowners to put them on the sites."
The campaign started out as a competition and the clubs responded with enthusiasm with many members of the 700-strong group taking part.