Norfolk school admits 'ill-judged comment' ahead of Ofsted visit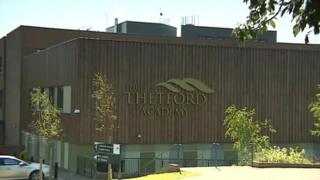 A Norfolk school alleged to have been tipped off about its Ofsted inspection has admitted a teacher may have made an "ill-judged comment" to pupils.
Thetford Academy denies any attempt was made to dupe inspectors, but it has held an internal investigation.
A parent told the BBC that students had been coached to put their hands up when inspectors were in the classroom even if they did not know the answer.
The school principal said the teacher's comment was "taken out of context".
The Thetford Academy is one of three Norfolk Schools being investigated by Sir Robin Bosher, director of training at Ofsted, over claims they were given advance warning of Ofsted visits.
'Show off the school'
Executive Principal Adrian Ball, said: "From the results of the investigation I am still confident that there was no attempt to teach students how to cheat an inspection and the allegation is untrue.
"I have discovered through the investigation that one member of staff made a comment to their class sometime around November, leading up to a performance management lesson observation, that it would look good if they could all put their hands up when asked a question.
"This was an ill-judged comment that has been taken out of context and I'll be dealing with the matter internally."
More than 50 students, chosen at random, along with 10 members of staff were interviewed by the school.
Mr Ball said: "All students were asked to recall the content of the assemblies that took place.
"No students confirmed the allegations that have been made and all of the statements say that the assembly content was along the lines of being polite and courteous to the inspectors and showing off the school to its very best."
Jenni Bailey, the mother of a pupil at the school, had told the BBC: "My daughter came home from school and explained that they had an assembly telling them they were due an Ofsted inspection.
"They were told in their lessons if an inspector arrived and they were asked a question they had to put their hands up, regardless of whether they knew the answer. Left hand if they didn't know, right hand if they did know."
The Inspiration Trust, which runs Thetford Academy, denied any advanced tip-off ahead of inspections.
Sir Robin Bosher is carrying out a review of inspections at Thetford Academy, Great Yarmouth Primary Academy and Ormiston Victory Academy in Norwich.