Robin Williams tribute created in Norwich underpass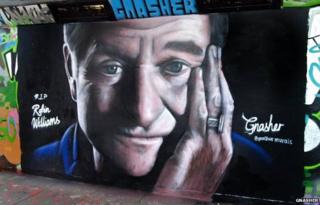 A Norwich-based street artist has created a tribute to the actor Robin Williams in a city underpass.
Williams, famous for films such as Dead Poets Society and Good Will Hunting, died last month in an apparent suicide.
Dave Nash said a number of people suggested he paint a mural of Robin Williams following his tribute to comedian Rik Mayall in Harlow.
He said his latest work had provoked an "amazing" reaction on social media.
The mural has been painted in the Pottergate underpass underneath Grapes Hill in Norwich city centre.
Mr Nash, who lives and works in the city, said he hoped the mural would "brighten up" the subway, where he has painted murals before.
He said he chose a picture which captured Williams' struggle with depression.
"I think the picture of him has sadness behind the eyes," he said. "And that tells the whole story."
Williams, who was suffering from the early stages of Parkinson's disease when he died, rose to fame when he appeared in the TV show Mork and Mindy.
The stand-up comedian won a best supporting actor Oscar in 1998 for his role as a therapist in Good Will Hunting.