Sandringham murder: Alisa Dmitrijeva cause of death unknown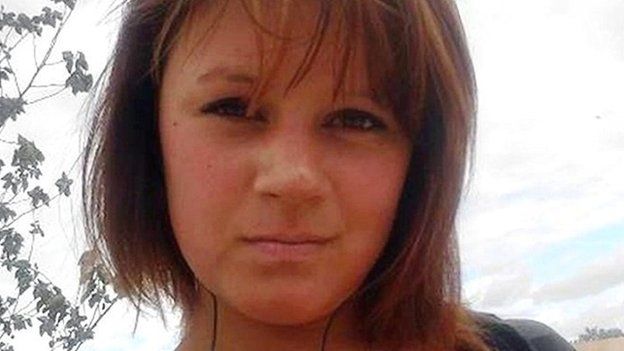 The body of a teenager found on the Queen's Sandringham Estate in Norfolk could have been lying in the woodland for up to four months, a coroner said.
Latvian Alisa Dmitrijeva, 17, went missing from her home in Wisbech in Cambridgeshire in August 2011. Her body was found on New Year's Day 2012.
At an inquest, the coroner said her body was so badly decomposed it was not possible to confirm how she died.
Two men questioned over her death were released without charge.
David Osbourne, assistant coroner for Norfolk, recorded a narrative verdict at an inquest held in King's Lynn.
"Unfortunately it has not been possible to determine a cause of death, or whether Alisa died at the scene or elsewhere," he said.
"The circumstance in which Alisa was found indicates third party involvement, that is to say she was deliberately placed there."
The last-known sighting of Alisa was in Friar's Street, King's Lynn, at 12:15 BST on 31 August 2011 when she was seen in a green Lexus car with two men.
Her partially-clothed body was found in a copse at Anmer on the afternoon of 1 January 2012.
Last month, Norfolk Police admitted they had no new leads to follow "despite exhaustive inquiries", and the case was passed to the coroner.
At the inquest, Mr Osbourne described it as "a tragic, sad and troubling case".
The cause of death on the post-mortem report was recorded as unascertained due to decomposition.
Det Insp Marie James, who led the investigation into Alisa's death, said the case would remain open.
"We are certain there are individuals out there who know how and why Alisa died.
"Our investigation into her death will remain open and I would reiterate my message to anyone who may have information to have the courage to come forward."
Related Internet Links
The BBC is not responsible for the content of external sites.