Kitten found in car engine in Cley next the Sea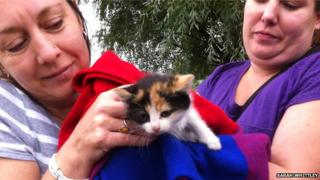 A pair of day-trippers are looking for the owners of a stowaway kitten, discovered in the engine compartment of their car in Norfolk.
Sam Warrington, 26, and Lisa Merry, 43, were "in shock" when they heard meowing from underneath the car when they stopped in Cley next the Sea.
Firefighters had to be called after an hour of trying to coax the kitten out.
Tortoiseshell Saffy, who was unhurt, is staying with Miss Warrington until her owner can be found.
The friends, from Aylsham, had been on an 18-mile (29km) trip, stopping in High Kelling before going to Cley - but they do not know when the cat sneaked on board.
"We tried everything we could to get the kitten out before we called the fire brigade," Miss Warrington said.
"One local man was trying to tempt her out with bits of food on a bamboo stick. But she kept getting scared and going back in to the engine compartment.
"We didn't want to hurt or scare her, but we also didn't want to damage the car."
Sarah Whittley, the co-owner of nearby Pinkfoot Gallery, saw Sunday's rescue unfold.
"When the fire engine was called, it came very quickly with its siren on down the high street.
"The fire crew was great. Quite a crowd assembled to watch them," she said.
The kitten, thought to be between eight and 12 weeks old, has proved popular with Miss Warrington's two-year-old daughter.
If an owner cannot be found, Miss Warrington plans on keeping her.