Hunstanton Sea Life Sanctuary: Return for tidal surge victims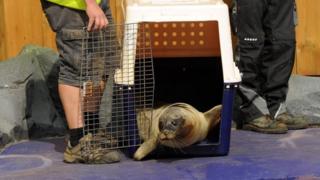 Turtles, penguins, tropical fish and other aquatics rescued from an animal centre battered by Norfolk's winter tidal surge have returned home after a £3m clean-up operation.
Sea water broke into Hunstanton Sea Life Sanctuary in December, wrecking habitats and life support systems for more than 2,500 creatures.
After a 10-month closure the attraction expects to reopen in October.
The "residents" are returning from temporary accommodation across England.
"Seals and otters will be coming from Scarborough, the turtles and penguins from Great Yarmouth, rays and fish from London and more fish from Weymouth," said displays supervisor Kieran Copeland.
He added seeing the new-look sanctuary take shape had been "exciting", but staff "couldn't wait to see it brought properly back to life with the arrival of so many of our residents all at one go."
At the height of surge tides last December the sanctuary was left under nearly a metre (3ft) of flood waters, the force of which cracked windows and lifted tanks off their foundations.
The centre also operates a rescue and rehabilitation programme for sickly, injured and abandoned seal pups.
Its closure over the summer - the breeding season for the huge common seal colony in The Wash - heaped pressure on the nearby RSPCA rescue centre at King's Lynn which itself was inundated with seal pups left abandoned.