London 2012 Olympic gold medal is 'howlingly rare'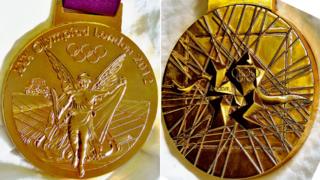 A "howlingly rare" Olympic gold medal anonymously donated to a charity auction is likely to have belonged to an official, the organiser has said.
David James, of James & Sons Auctioneers, in Fakenham, Norfolk, said the medal was left in an envelope at a valuation event in Stowmarket, Suffolk.
But the 2012 medal, one of 4,700 made by the Royal Mint, has no inscription, unlike those given to winners.
Mr James said he had been told some "may have been given to the committee".
The medal was dropped off at the counter of a valuation day, in an envelope with the initials of the Royal British Legion written on it, earlier this month.
'Impossible to value'
Mr James, 71, chairman of the Fakenham and District Branch of the Royal British Legion, said the Grand Centenary Charity Auction in September 2015 would raise money for its bomb blast injury research centre.
He said: "As an auctioneer, I was keen to find out the provenance and after speaking to the Royal Mint I've found out that there may have been a small amount given to the Olympic committee.
"It is definitely genuine. It's howlingly rare so it's almost impossible to value. I hope it will make a lot of money."
A spokeswoman from the Royal Mint said it was contracted to manufacture medals for the London 2012 Olympic and Paralympic Games but not all were engraved.
"All of the medals at The Royal Mint were accounted for," she said.
"However, there were some remaining medals which were returned to the organising committee of the Olympic Games."