Afghanistan RAF deployment scale 'beyond anything', says top commander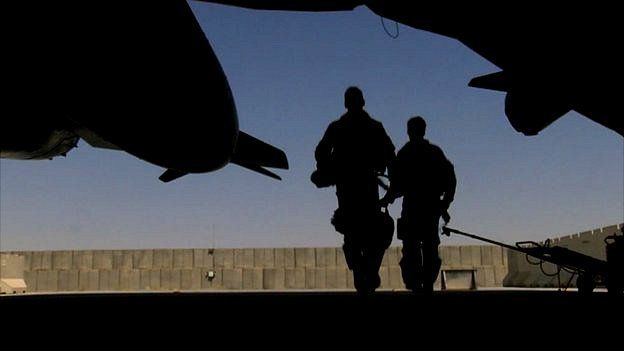 The scale of RAF deployments used in Afghanistan might never be seen again, a top commander has said, as combat forces prepare to withdraw.
Air and ground support operated by 850 personnel, including Tornado crews from RAF Marham in Norfolk, have been serving in the country since 2001.
Air Commodore Alan Gillespie said the RAF support to ground forces was "beyond anything" he had ever seen.
The RAF has spent more than a decade supporting coalition and Afghan forces.
Tornado bombers from RAF Marham have been based in Kandahar for almost half of that time providing armed protection for troops on the ground along with aerial intelligence.
"I think the land-centric nature of this campaign has called for air support in all sorts of forms - reconnaissance, armed over-watch or air transport," said Air Cmdr Gillespie, speaking to BBC Look East in Kandahar.
"I think we've developed our air/land integration tactics to a significant extent, such we may never see the likes of again."
As combat troops prepare to leave Afghanistan by the end of the year, plans have turned to the redeployment effort while retaining air operations.
"It's been a very difficult challenge for our planners to ensure we get all our assets and all our personnel out in a timely and efficient fashion," said Air Cmdr Gillespie.
"The plan put together at the beginning of this year has certainly evolved many, many times... I'm not sure I've ever seen anything quite as complex.
"Delivering air operations right to the end whilst focussing on redeployment is the real challenge," he said.
At the height of the war, 12,000 British troops were in Afghanistan.
With just three month to go before combat troops leave the country, about 4,000 service men and women remain there. Since 2001, 453 British personnel have died in the conflict.
Related Internet Links
The BBC is not responsible for the content of external sites.