Ugandan orphans denied UK entry without parental consent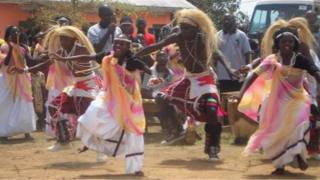 A children's choir from Uganda with 20 orphaned members has been refused entry into the UK because they did not have parental consent letters.
Africa with Love, based in Norwich, had planned to bring the choir to the UK to sing and raise money for its school.
But the children were denied visas because they had not all got written parental consent.
The Home Office said the unaccompanied children had to bring "consent letters from parents or guardians" with them.
Elizabeth Lansdowne, from the charity, said: "The 20 orphans do not have either one or both parents and the staff from the school were their proxy parents.
"The consulate man did not believe we were a genuine charity."
Appeal lodged
The tour had to be called off just days before the choir would have left Uganda.
The charity has lost £46,000 that it spent funding the trip and the orphans' school any sponsorship money it would have raised.
A Ugandan official had provided a covering letter to guarantee that all the choir members would return home.
However, the Home Office insisted: "Consent letters from parents or guardians are required for unaccompanied children wishing to travel to the UK."
The charity has lodged appeals to the Home Office and other government departments but said it accepted the tour would not now take place.