Norfolk's battery hen rescue centre closes after robbery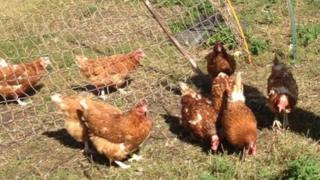 A battery hen rescue centre, which has rehomed 37,000 birds since 2006, has closed following a robbery in which its night watchman was attacked.
Little Hen Rescue, at Flordon, near Newton Flotman, Norfolk, employed the guard after three previous raids.
Secretary Jeff Anderson said it was the final straw. A Norfolk animal sanctuary has taken in the 100 hens, ducks and turkeys awaiting rehoming.
The centre has received 6,000 birds this year.
Little Hen Rescue was set up in 2006 after founder Jo Eglan took in two stray hens, which gave her the idea for rescuing birds from battery farms.
Cash, medicines and cockerels were stolen in previous burglaries, so Mrs Eglan employed a night watchman.
But early in the morning of 15 August, three masked men broke into the premises and punched the watchman in the face.
Mr Anderson said: "Yes he was injured, but injuries heal.
"The trauma hasn't healed, because he was tied up and threatened with knife and told he would be shot in the legs."
The thieves stole a number of items, including a laptop, stereo, mobile phone and a vacuum cleaner.
Norfolk Police said no arrests had yet been made and it was appealing for witnesses.
Mrs Eglan has found a new home for the remaining birds at Pact, an animal sanctuary in Hingham.
She will hold a sale of the centre's equipment to raise money to help Pact with the costs of keeping the birds and she plans to sell the three-acre (1.2 hectare) site.