Hannah Witheridge: Hemsby funeral for Thai murder victim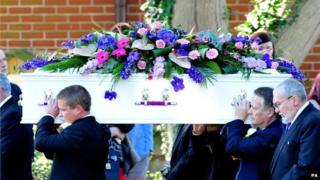 Hundreds of mourners have turned out for the funeral of a 23-year-old British woman murdered in Thailand.
Hannah Witheridge, from Hemsby in Norfolk, died along with fellow British tourist David Miller, 24, in an attack on Koh Tao island last month.
About 200 people gathered inside St Mary's Church in Hemsby to pay their respects, with speakers also relaying the service to people outside.
Mourners dressed in bright colours at the request of her family.
They said they wanted to create the theme of a wedding and asked for no floral tributes, but for people to donate to a local animal rescue charity.
A white horse-drawn hearse with a mounted police escort arrived at the church for the funeral, five days before Miss Witheridge's birthday, after a short journey from her family home.
During the service Miss Witheridge's father Tony, sisters Tania and Laura, and brother Paul gave readings, with the Reverend Charles Powles inviting the congregation to join in with prayers for the speech and language therapy student.
A tribute video of Miss Witheridge was played and mourners heard live music by Bill Downs and songs by artists John Legend, Cyndi Lauper, One Direction and Ed Sheeran.
A loud applause erupted as the coffin was led out to She's So Lovely by Scouting for Girls.
Mr Powles said after the service, which her family called Hannah's Party, that she was "vivacious" and someone who "loved life".
"It was meant to be a party, which is good to celebrate a wonderful young woman who I have known for a number of years," he said.
At the scene
Zoe Applegate, BBC News
The sun shone brightly over Hannah's home village on an unseasonably warm day as about 200 brightly dressed mourners filed in to St Mary's church. Large crowds gathered on the street opposite as the funeral started.
Mourners were asked to dress as though they were attending a wedding for what one guest called a "celebration" of Hannah's life.
The family requested a police horse lead the procession because of the 23-year-old's love of animals. It was followed by four white horses adorned with plumes of purple feathers and pulling a white carriage containing her coffin.
Her mother Sue walked alongside Hannah's sisters, who were all wearing floral head garlands, together with father Tony and brother Paul. A handful of close friends followed behind as silence fell on the street.
A private burial took place behind the church, with a marquee erected to ensure privacy for the family.
Mr Miller's family were not at the private service, Norfolk Police said. His funeral took place in Jersey last week.
Miss Witheridge's family have previously described her as a "fun, vibrant and beautiful young woman who will be sorely missed by all who knew her."
Two Burmese workers, whose names were given only as Saw and Win, are said to have confessed to killing the pair, who were discovered on a beach on Koh Tao on 15 September.
Deputy police chief spokesman Col Kissana Phathanacharoen said the two suspects, both 21, had been charged with three offences; conspiracy to murder, conspiracy to rape, and robbery.
However, it was reported on Thursday that the two men had retracted their confessions, claiming they were made under duress.
The Foreign Office said it was "concerned" about reports the pair have been mistreated by Thai police and had raised those concerns with the relevant authorities.