Flood warnings issued along Norfolk and Suffolk coast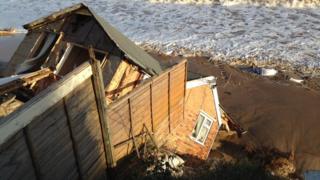 An anticipated tidal surge and high winds have caused the Environment Agency to issue flood warnings along the east coast.
The agency said flooding was likely at Walcott, Keswick, Ostend, Felixstowe Ferry and Bawdsey Quay.
A warning was also issued for Southwold and surrounding marshes, as well as Blythburgh and marshes upstream of the A12.
Several flood alerts are in place in Norfolk, Suffolk and Essex.
High water is expected along the coast from 18:45 BST onwards, the agency said. It has advised people to check its website regularly for updates.
The warnings are expected to remain in place until Wednesday morning's tide has subsided.
Last winter a number of properties were flooded and swept into the sea during the biggest east coast tidal surge for 60 years.
John Davis, owner of the Ferry Cafe in Felixstowe, said "We're taking every precaution we can, we've put the fridges on cans of mushy peas and baked beans.
"We only got the warning this morning and have been busy getting things off the ground."