Connor Barrett death: Teenagers on trial over party murder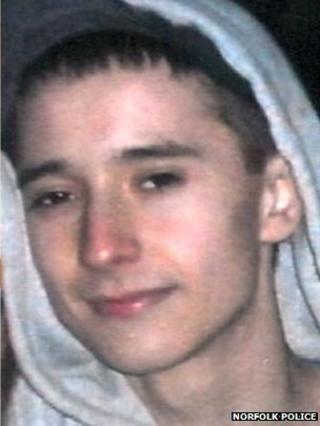 A teenager accused of murdering a man at a 21st birthday party asked later if he had got "his man", Norwich Crown Court has been told.
Jesse Quaye, 18, of Crittens Road, Great Yarmouth, and a boy of 15 both deny murdering Connor Barrett, 20.
He was stabbed during a fight in the garden of a house in The Glebe, Hemsby, on 10 May, and died later in hospital.
Mr Quaye and the teenager also deny charges of carrying an offensive weapon and assault.
Anthony McLean, 41, of Drifters Way, Great Yarmouth, denies assisting an offender by driving Mr Quaye to London after the incident.
Prosecutor Amjad Malik told the court that Mr Quaye, the teenage boy and a number of other young people had gatecrashed the birthday party.
After they arrived a fight broke out and Mr Barrett, who was providing the music and completely defenceless, was stabbed twice in the front of his body and twice in the back.
Mr Quaye and the teenage boy had come to the party carrying weapons and it was a joint attack by the two, Mr Malik said.
When questioned as to why he carried a knife Mr Quaye said if anyone messed with him "they would get it", said Mr Malik.
The court was told he claimed to have been butted in the head during the fight and Mr Malik said he was later overheard asking friends if he had got "his man".
Mr McLean, 41, told police that when he drove Mr Quaye to London he had no idea he had been at the party where the stabbing took place.
Mr Malik said that Mr Quaye was driven to London to remove him from the Norfolk-based murder investigation.
The case continues.