Norwich to London railway line to get £170m of improvements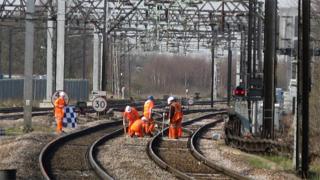 A railway line across East Anglia is to receive a £170m upgrade to make it "more reliable", Network Rail has said.
The project to improve the route from Norwich, through Suffolk and Essex and into east London is due to start next year.
Network Rail's route managing director Richard Schofield said the work would "bring the railway into the 21st Century".
MPs across the region recently called for more money to be spent on railways.
Train operator Abellio Greater Anglia has had to apologise several times this year for delays caused by overhead cable problems and overrunning engineering works.
Managing Director Jamie Burles said the company would do "everything possible to minimise alterations to the normal train service".
He added that work had been scheduled to take place overnight and at off-peak times to avoid the main periods of commuter travel.
Network Rail said a project to upgrade 60 year old overhead line equipment along the Great Eastern Mainline will continue and new track and points will be installed in Witham and Colchester.
The work will take place across eight weekends between early February and late March 2015.
A fleet of "high output" machines will start to work in the region in January during the evenings, on some weeknights and in very early mornings.
The equipment scoops up the crushed rock underneath the tracks, the ballast, and replaces it with fresh stone.
"This essential upgrade is the railway's equivalent of resurfacing a busy road," Mr Schofield said.
"This work is part of a significant investment programme to bring the railway into the 21st Century and deliver a better service to passengers."