Tomatoes on track at Diss highlight toilet discharge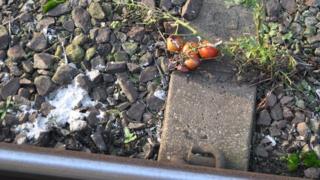 Tomatoes growing on the track at a railway station highlights the failure of train companies to fit waste tanks to on-board toilets, a union said.
The RMT union said the Southend to London line had become known for discharged human excrement and a hazard for employees working on the track.
Plants bearing fruit have also been growing amid waste at Diss in Norfolk.
Train company Greater Anglia said some carriages would be upgraded with retention tanks next year.
The RMT said workers carrying out maintenance on the tracks were at risk of being sprayed with human waste as trains went past and discharging it from carriages was a "filthy and disgusting practice".
'Profiteering train companies'
Mick Cash, RMT general secretary, said: "The tomatoes are an indication of just how bad the problem is, particularly on Greater Anglia.
"If it was bankers getting sprayed with excrement when they went to work, rather than track workers, this practice would end over night.
"The profiteering train companies should fund the cost of fitting tanks to end this scandal, rather than offering up excuses and solutions that are decades away."
BBC Essex gardening expert Dave Gillam confirmed plants could germinate from tomato seeds found in human excrement.
An Abellio Greater Anglia spokeswoman said: "A number of our trains already have retention tanks fitted.
"Our Mark III train carriages, which operate Intercity services between Norwich, Diss, Ipswich and London are going to be upgraded with new toilets and retention tanks from next year as part of a major refurbishment programme, with the full programme completed by the end of our current short franchise in October 2016."