Morston mussel crop devastated by sand damage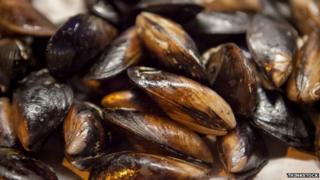 Fishermen have been forced to abandon the mussel harvest after sand damaged breeding grounds in a north Norfolk village.
Morston mussels are renowned for their plump, juicy meat and are named after the village where they are fished.
Mussel farmer Mark Randell said: "Production has ceased at this moment in time."
The Fisheries Local Action Group (FLAG) said a lack of cash meant it could not establish the source of the sand.
FLAG chairman John Lee said: "The problem is there is now so much sand been washed in there, it's totally covered the beds.
"We've worked with the Marine Management Organisation, the government body Cefas (Centre for Environment, Fisheries and Aquaculture Science), Natural England, all of whom we've tried to get to do surveys to find out where the silt is coming from.
"Unfortunately, like everybody else, they are a little bit strapped for money so not too much can be spent on it."
'Disastrous' situation
The amount of sand covering the rocky beds has meant existing mussels have been washed away and seeds have not been able to be planted.
Galton Blackiston, head chef at Morston Hall, which is supplied by Mr Randell, said: "It's literally outside the gate, so to be deprived of them at this time of the year is a disaster.
Mr Randell, who has had to find other work, said sand had been building up on the 20-acre (eight-hectare) stretch of beds for about three years.
A Natural England spokesman said: "We share local fishermen's concern about the decline of mussels at Morston.
"At this stage we can't be sure of the cause of the siltation which is contributing to the decline, but Natural England would be happy to play an active part, working with these other parties, to find a solution."