College of West Anglia 'irritant': 30 people treated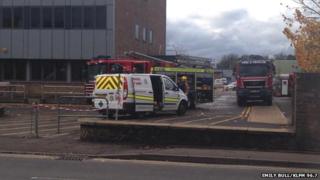 A college building had to be evacuated and 30 people needed medical treatment after an "irritant" was discharged in a classroom, police said.
Emergency services were called to the College of West Anglia in King's Lynn, Norfolk, at about 11:00 GMT.
One person was taken to hospital as a precaution, but they were discharged in the afternoon.
Norfolk Police were investigating the cause of the incident, but the college said it was not a leak.
Classes in the front block on Tennyson Avenue were cancelled for the day, but the rest of the campus remained open.
Emergency services said paramedics treated 29 people on the site for breathing difficulties and watery eyes.
The block was ventilated and was safe to re-enter at 15:00, the college said.
David Pomfret, college principal, said: "I am delighted that the situation has been resolved so quickly and we are now working closely with the police to establish the cause of the incident."
Insp Paul Garrard from Norfolk Police said: "We're looking at something potentially being discharged in a classroom and our investigation will follow that line of inquiry."