Robots controlled from Norfolk seek sea change data in Antarctica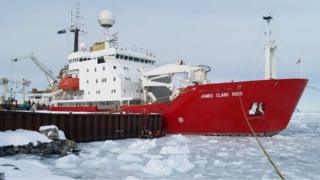 Robots roaming the Southern Ocean, controlled from Norfolk by satellite, are collecting information on how warm water is melting the Antarctic ice cap.
Researchers at Norwich-based University of East Anglia (UEA) and California Institute of Technology have found warm water travels via swirling currents.
This could help refine data on ocean currents and climate change.
Scientists hope to predict more accurately the rate at which ice sheets retreat and sea levels rise.
The findings from three robotic underwater gliders, deployed to explore waters on the Antarctic continental shelf, have been published in Nature Geoscience.
This warmer water is normally found hundreds of metres down throughout the Southern Ocean but how it reaches the shallow water around Antarctica has not been observed before.
The gliders were remotely controlled from Norwich, more than 10,000 miles away, sending data back via satellite mobile phone technology, every few hours, for two months.
Prof Karen Heywood, from UEA's Centre for Ocean and Atmospheric Sciences, said data was collected on water salinity, temperature, and oxygen levels.
"The results have identified ocean features that could not feasibly have been studied by any other means.
"Seawater quickly freezes to form ice and can trap the gliders, just like Shackleton's ship Endurance was trapped in the same area, 100 years ago," she said.
Predicting ice changes
The research team found warm salty water was reaching the Antarctic continental shelf, transported by eddies - swirling underwater storms caused by ocean currents.
"Physical processes in the Antarctic are important for global climate and chemical cycles," she said.
"The use of ocean gliders is beginning to revolutionise our understanding of polar ocean processes.
"We hope it will help refine ocean and climate models, and predict future rates of retreat for Antarctic ice shelves."