Pilot Ian Jennings admits flying while over drink limit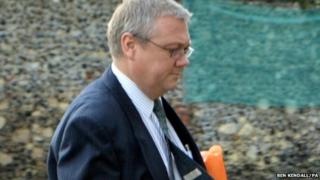 A pilot has admitted to being three times over the alcohol limit while flying a passenger plane from Spain.
Ian Jennings, 47, of Gale Moor Avenue, Gosport, Hampshire, was arrested at Norwich Airport in October after landing a commercial chartered plane.
He admitted flying while the alcohol in his breath was over the prescribed limit at the city's magistrates' court.
Jennings faces a jail sentence of up to two years.
There were 10 passengers on board the plane.
Pilot breathalysed
Prosecutor Lesla Small said: "The police had received information from a member of the public and attended Norwich Airport.
"The passengers were allowed to get off the aircraft and he was breathalysed.
"This offence is aggravated by the fact he had flown from Spain with passengers on board."
The pilot was found to have 31 micrograms of alcohol per 100 millilitres of breath - the limit for pilots is 9 micrograms and 35 for drivers.
Marcus Crosskell, for Jennings, said: "He is a gentleman of unblemished character with a 20-year-plus career as a pilot."
Magistrates said the case was so serious it would have to be sentenced by a crown court judge.
Jennings was released on bail on the condition he does not fly any aircraft.
The Civil Aviation Authority has suspended his licence.