Dog found hogtied in Norwich park is rehomed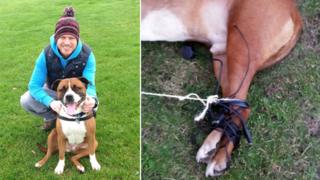 A dog that was bound up by string and electric cables and dumped in a Norwich park has been rehomed.
Spencer, a boxer cross, was found abandoned in Sloughbottom Park in September, having been subjected to what the RSPCA called "horrible" abuse.
He now belongs to Simon Oddy, 37, who said Spencer charmed him "instantaneously".
"You wouldn't have thought he had been through such a traumatic experience," he said. "He is so placid."
The dog, believed to be about four years old, was healthy but in pain from being tied up.
Mr Oddy, who lives in Peterborough, said he was unaware of Spencer's treatment when he first met the dog.
"We looked at the links and saw the story and it just made us want him more," he said.
"It is amazing how trusting dogs can be, they seem to move on and forgive and forget so quickly."
RSPCA inspector Laura Sayer said she was "delighted" Spencer had found a new home.
"He is such a lovely dog, and was so sweet and loving from the word go, that it does not surprise me that someone fell in love with him so quickly," she said.
"It is the best part of our job when we reach such happy endings, it just makes everything worthwhile."
The RSPCA said it had investigated the incident but would not be pursuing the matter further.