Norwich City fans warned over homophobic abuse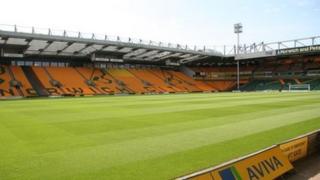 Norwich City have warned three fans about their future conduct after they made homophobic comments.
Two fans were heard to make offensive remarks during Birmingham City's visit to Carrow Road on 20 September.
The BBC understands the comments were made as Proud Canaries, a fans' group which aims to challenge homophobia in football, paraded on the pitch.
Another fan received a warning after they made an offensive comment during Norwich's match with Rotherham.
The club said it was also investigating allegations made about another fan at the Rotherham match at Carrow Road on 4 October.
'Homophobia is rife'
A spokesman said: "Although it is extremely disappointing to hear of any discriminatory behaviour at our games, what is pleasing in these cases is that they were brought to our attention by Norwich City supporters.
"This self-policing by fans is a huge help as we all join together to eradicate discrimination from our inclusive, community club and from football in general."
Norwich City said the fans faced an "indefinite ban" should they offend again.
Proud Canaries praised the club's response via Twitter.
The lesbian, gay and bisexual charity Stonewall said homophobia remained "rife in the beautiful game".
Spokesman Richard Lane said: "Too many people feel uncomfortable at a match simply because of their sexual orientation.
"Clubs, players and senior leaders need to make it absolutely clear that this abuse has no place on the pitch or the terraces."