Norfolk Bronze Age dagger 'doorstop' saved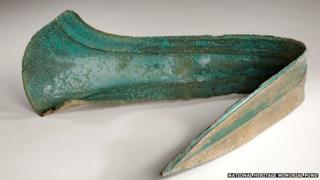 A Middle Bronze Age ceremonial dagger used for years as a doorstop has been saved from a private sale.
The 27in-long (68cm) bronze weapon was ploughed up in a field in East Rudham, Norfolk 12 years ago.
Known as a dirk, it has been described as "incredibly rare". It is only the second of its type found in the UK.
The dirk was purchased using a grant of £39,000 from the National Heritage Memorial Fund and is now on display at Norwich Castle Museum.
The artefact, known as the Rudham Dirk, is thought to be about 3,500 years old.
It is about three times the size of a normal Bronze Age dirk, making it impractical for use as a weapon.
It is thought to have been bent to prevent its future use as part of a ritual when it was buried.
After years of use propping open a door open in the landowner's property, it was identified by members of Norfolk's Portable Antiquities Scheme as an artefact of "incredible importance".
'Dawn of metalworking'
Negotiations with the owner secured a sale price of almost £41,000, most provided by the heritage fund grant.
The only other example of a dirk of this type found in Britain was discovered in Oxborough in Norfolk in 1988 and is housed in the British Museum.
It was discovered when a man tripped over it while walking through a wood.
According to the British Museum there are only four other examples of similar ceremonial dirks found, two in the Netherlands and two in France.
Dr Tim Pestell, senior curator of archaeology at Norwich Castle, said: "We are delighted to have secured such an important and rare find as this, which provides us with insights into the beliefs and contacts of people at the dawn of metalworking."