James Paget Hospital: £40,000 offered as stroke consultant 'sweetener'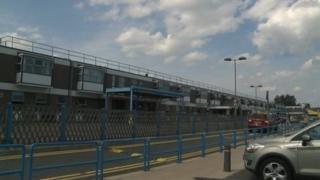 A hospital trying to recruit a full-time stroke consultant has offered a £40,000 "reward" to help attract applications.
The James Paget University Hospitals (JPUH), in Gorleston, Norfolk, said the incentive had been offered as a national shortage of consultants was making recruitment difficult.
A hospital spokesman said the payment would save money in the long run.
"It's much cheaper than employing... locum specialists doctors," he said.
If an applicant takes the "golden hello" when appointed, the bonus will commit them to a minimum of three years with the hospital. The salary range is between £75, 249 and £101,451.
Nick Oligbo, medical director at the JPUH, told BBC Radio Norfolk: "There have been recruitment issues nationally with stroke consultants... so the James Paget is not unique.
"It's an incentive to get specialists in stroke medicine to work with us.
"It's actually much cheaper than employing agency or locum specialists doctors who don't always perform as well as full-time long-term staff here.
"Also the patients get the continuity of care of having specialists who are based here... so we think that's a good way to go to try and attract more specialists here."
The hospital said it was unable to give figures on the potential savings due to the "number of variables" involved in agency and locum costs.