Fakenham fire: Electrics blamed for Aldiss market place blaze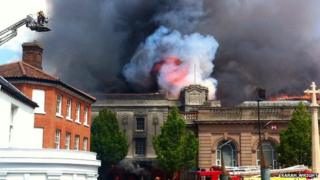 A severe fire which destroyed an historic town centre building and took around 100 firefighters to tackle, was probably caused by faulty electrics.
Crews were called to the Aldiss building in Fakenham Market Square, Norfolk, on 25 May.
Neighbouring properties were badly damaged in the blaze which is thought to have been caused by a faulty light fitting, Norfolk Fire Service said.
Tim Summers, Aldiss company secretary, called the fire "devastating".
The former Aldiss furniture and fashion store was built in the early 1900s.
Norfolk Fire Service said its investigation had finished, saying the blaze most likely started in a light fitting in the suspended ceiling on the ground floor.
The Original Factory Shop, which leased the building at the time of the fire, has since relocated to an industrial estate in the town. The Aldiss shop moved to a different site in the 1990s.
The neighbouring properties have almost been fully repaired.
Mr Summers, who is managing the site's redevelopment for the Aldiss family, said a feasibility study was currently being carried out with architects.
He said it is hoped the new building will reflect its original Georgian look, with plans being submitted in the new year.
"The original facade could not be saved, but the new one will be in keeping with the market place", he said.
"It was an iconic building for the town, close to the family's heart. The fire was devastating at the time, but we're now keen to get the town back to where it was before it happened".
Some pieces of the original facade have since been displayed in the town's museum.