Cuckoo clocks up 60,000 miles of travel between UK and Africa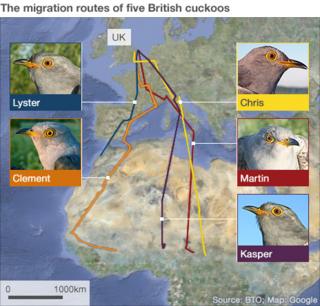 Scientists tracking cuckoos between the UK and Africa say one of the birds has now clocked up 60,000 miles (96,560km).
The British Trust for Ornithology (BTO) tagged a group of five cuckoos in Britain with satellite-tracking devices in 2011.
Only one, named Chris after BBC wildlife presenter Chris Packham, still has a functioning device.
The BTO said scientists now had a greater understanding of the hazards facing the birds during migration.
The five birds originally tagged by the Thetford-based wildlife organisation were called Lyster, Clement, Chris, Martin and Kasper.
Chris has made seven trips between the UK and Africa, visiting 22 countries and is currently in the Congo rainforest.
Packham 'enthralled'
Dr Chris Hewson, lead scientist on the project at the BTO, said: "Chris has helped us to understand the pressures cuckoos face on what is a pretty hazardous migration to Africa.
"He has survived sandstorms, hailstorms, an exceptionally cold, wet summer, predators over the Mediterranean and in the rainforest, and has crossed the Sahara Desert a whopping seven times since we started following him.
"We have everything crossed in the hope he makes it back next spring."
---
Cuckoos
Cuckoos are brood parasites. In the UK, they lay eggs in the nests of dunnocks, reed warblers and meadow pipits
One female can lay up to 20 eggs in a single breeding season
The birds look like sparrowhawks and their appearance is thought to intimidate their hosts
Cuckoos also fool their hosts with egg "mimicry". Their eggs' colour and markings resemble those of their victims
---
Mr Packham, who is president of the BTO, said: "Chris deserves a medal for what he has given to the understanding of bird migration.
"It would be so easy to lose this in scientific journals, but thanks to the BTO we can all watch enthralled as Chris and all of the other satellite-tagged cuckoos make their way across the globe."
Other cuckoos have been tagged since the original five.