James Arnold gun haul: Gunsmith 'had walking stick gun'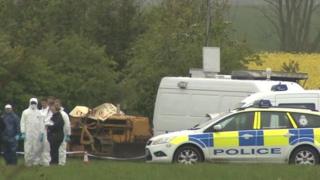 A gunsmith accused of illegally supplying firearms to a parish council leader had a walking stick gun in his possession, it has been alleged.
Anthony Buckland, who ran A R Buckland in Stoke Holy Cross near Norwich, is accused of selling Suffolk councillor James Arnold rifles and a revolver.
Mr Arnold was arrested over the weapons in April after a police raid but died from cancer in July.
It is claimed Mr Arnold did not have a firearms licence.
In total, Mr Buckland is accused of 15 offences, including selling or transferring a prohibited colt new service revolver, a colt ace self loading pistol and three bolt action rifles to Mr Arnold.
The 64-year-old, of Mill Road, is also accused of possessing an illegal walking stick gun and nine counts of fraud, where he allegedly tried to sell guns which did not contain component parts.
When Mr Arnold's home in Wyverstone was raided, police said they found one of the country's largest ever collections of illegal weapons, including an Uzi sub-machine gun and an AK-47.
Mr Buckland is due to appear before magistrates on Thursday.