Norfolk photos reveal storm surge damage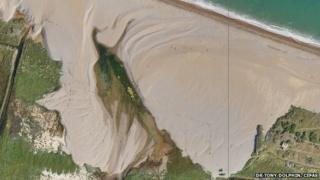 Aerial photographs have been released mapping the extent of the damage caused to the Norfolk coastline by the biggest storm surge for 60 years.
Thousands of homes were evacuated and towns were flooded on 5 December, 2013.
The images were taken by Centre for Environment, Fisheries & Aquaculture Science (Cefas) researchers.
Lead scientist Dr Trevor Tolhurst said it was a "once in a lifetime opportunity" to understand "the impacts of a severe natural event".
The storm surge was the biggest since 31 January 1953, when water swept down the North Sea killing over 300 people.
Last year, sections of Cromer Pier "blew up" with the force of the sea, and flooding was reported in Blakeney, Wells-next-the-Sea and Great Yarmouth.
The mapping project, which is a joint one with the University of East Anglia (UEA), used Cefas' remote piloted aircraft to take the photos.
They chart the storm surge breaches in the man-made coastal defences near Blakeney and along the Cley to Salthouse gravel barrier.
Cefas coastal scientist Dr Tony Dolphin said: "Using these images we should for the first time be able to calculate the amounts of sediment that moves in these surges, the distances they move in a few hours - and possibly even the direction and velocity of the flows.
"Coastal managers need this information to better understand why certain areas might be vulnerable to flooding and how to mitigate the effects."
UEA lecturer Dr Trevor Tolhurst said: "It is essential that such events are included in the investigation of future changes to our coasts and in the development of appropriate response strategies."
He added the "challenge" was to turn "scientific knowledge into real-world decision-making."
The project was funded by the Natural Environment Research Council and its findings will be published in 2015.