A11 roadworks complete after 40-year wait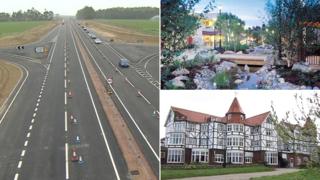 Major works on a road serving the East of England have been completed, 40 years after they were first proposed. The improved A11 may boost tourism, but could it damage the region's reputation as being a remote getaway?
The A11, which links Norfolk and Suffolk to the M11 south of Cambridge, is seen as a massively important road for East Anglia.
But it saw only piecemeal improvement before the coalition government agreed in 2010 to dual the final single carriageway section.
Now that the last nine miles between Barton Mills and Thetford have been completed at a cost of £134m, there are hopes new investment will be attracted to Norwich and the wider region.
London hopes
MPs have been calling for the road to be fully dualled since the 1970s.
But East Anglia is a sparsely populated place. Other regions with more people, and politicians to represent them, got a bigger share of the transport budget.
Through the 1980s, Norwich appeared to prosper despite poor roads. But the closure of key employers, such as Nestle in 1996, and job losses at Norwich Union increased the political pressure to improve the local road network.
A study in 2008 by the economic consultancy Atkins put the value of a dualled A11 at £558m over 60 years.
Tourism should be one of the sectors to benefit.
Marc Mackenzie runs three hotels on the North Norfolk coast, including the Links at West Runton. "Traditionally, most of our guests arrived from Leicestershire, Northamptonshire and the Midlands," he said.
"The dualling of the A11 has cut the journey time to less than two hours from the north of London, so we'll get a lot more people coming up from the south."
Center Parcs at Elveden is one of the region's biggest attractions.
"We're very positive about the dualling," said chief executive Martin Dalby. "It will avoid the problems at the old Brandon crossroads."
Dr Sally Ann Forsyth, chief executive at the Norwich Research Park, said the improved A11 would make it an "easy commute" for its scientists, many of whom live in Cambridgeshire.
"It also makes the connection much more reliable, which is so important for our researchers and our business collaborators."
Another group set to benefit are the estate agents of North Norfolk.
Those idyllic country cottages in Burnham Market and Blakeney will become more accessible to second-home buyers, a fact that will not be welcomed by all.
The new A11 will allow Norfolk and Suffolk to better compete with the rest of Britain, but it could also erode the remoteness which has given East Anglia much of its unique appeal.