Norfolk trainee vicar tells kids 'Santa's not real'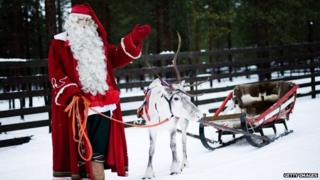 A trainee vicar who told primary school children Father Christmas does not exist has apologised for her "insensitive, off-the-cuff remark".
The Rev Margaret McPhee made the comment at a carol service at St Mary's Church, Stalham in Norfolk for Stalham Academy pupils on Monday night.
A parent on Facebook said she had "spoiled the magic" of Christmas.
The school said Mrs McPhee had promised "she will not be making any such comments in the future".
During the carol service, the curate asked children what they thought was the meaning of Christmas.
'Feeling terrible'
When a child answered "Father Christmas", she told them he was not real.
One parent said on Facebook that Mrs McPhee had "put me off taking my children to church just in case something else gets said".
But another showed support and posted: "I bet this Rev is feeling terrible. No-one spoils the magic of Christmas on purpose for children."
In a statement, Stalham Academy said it had received an "official apology" from Mrs McPhee..
The Ven Jan McFarlane, archdeacon of Norwich, said: "Margaret is a sensitive and sensible priest who let slip a comment which she immediately regretted.
"She apologised swiftly and wholeheartedly and regrets any distress her comments may have caused."