RAF Coltishall site £50m solar farm plan approved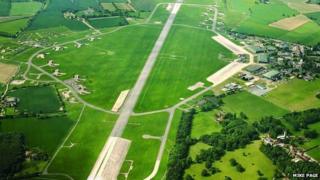 A former RAF station in Norfolk is to be turned into a 300 acre (120 hectare) solar energy farm after two district councils approved the £50m project.
Norfolk County Council bought the 600 acre (240 hectare) RAF Coltishall site for £4m in January 2013.
North Norfolk and Broadland district councils have both now approved the £50m project's planning application.
A deal to rent the site to solar power developers to generate £10m income over a 25-year tenancy will now go ahead.
Renewable energy advisors told the council the solar park would generate up to 49.9 megawatts and would cost up to £50m to build.
The council said the income from electricity generation would be reinvested to create jobs and safeguard the historic site's heritage as a World War Two and Cold War air force base.
Council leader George Nobbs said: "There have been those who've doubted that we would be able to pull off this deal, but I'm glad to say they've been proved wrong.
"RAF Coltishall, or Scottow Enterprise Park as it will be known, is beginning to repay the vision and faith that we have shown in it."
Scottow Moor Solar, in partnership with Norwich-based Red Triangle Energy, is the company behind the project.
Director David Fyffe said: "We'll be aiming to start construction in the early part of next year."
The solar farm will cover the majority of open space on the former air base but will not affect other activities planned there.