Hickling Hall fire: Grade II-listed home destroyed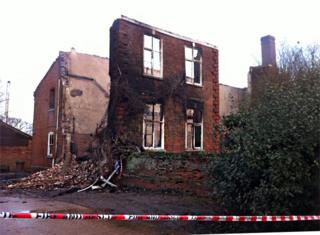 An 18th Century home in Norfolk has been destroyed in a suspected chimney fire.
More than 50 firefighters from across Norfolk were called to the Grade II-listed Hickling Hall, Hickling, at about 19:50 GMT on Boxing Day.
Norfolk Fire Service said the three-floor hall on farmland was gutted.
The home, owned by Bernard Ellis, had been in the family for three generations and was described as a "landmark" in the village.
Roy Harrold, Norfolk's deputy chief fire officer, said: "We were called to a chimney fire, but the first arriving crews sent a message back immediately to say the fire was spreading to a bedroom upstairs," said Mr Harrold.
"Unfortunately, there were not very good water supplies in the area and the crews were unable to contain the fire and the whole properly was lost.
"It's a shell; the entire interior was destroyed. It's very sad to see as it was clearly a lovely building."
Listed in 1955, according to British Listed Buildings, the two-storey property featured a dormer attic and large panelled lounge.
Sandra Clarke, chairman of Hickling Parish Council and a friend of the Ellis family, said: "I looked out of the window at the back of my house and saw it in flames.
'History gone'
"The whole of the upper floors and the roof were on fire, flames were going everywhere... it was so awful.
"Mr Ellis is devastated, as you can imagine. He's lived in the house for well over 40 years - he's lost absolutely everything."
She added the house had been "very important" for local dignitaries during its more than 300-year history.
"It's quite a landmark when you drive into Hickling, and obviously part of that history is gone," she said.
"It's a devastating thing, but most important is that no-one was injured."