Ex-UKIP candidate for Great Yarmouth Matthew Smith accused over 'forged signatures'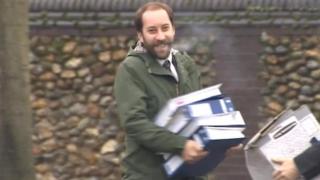 A UKIP parliamentary candidate submitted county council election nomination forms with forged signatures, a court has heard.
Matthew Smith, 27, of High Street, Gorleston, Norfolk, denies six counts of making a false statement in nomination papers.
The charges relate to elections in the Great Yarmouth district in May 2013.
Seven out of eight forms submitted by UKIP in that campaign were alleged to contain forged signatures.
Mr Smith, who also denies three charges of making false nominations papers, is a Norfolk County Council member for Gorleston St Andrews.
'False signatures'
He had been selected to stand for parliament in Great Yarmouth at the next general election, but withdrew in July.
Brett Weaver, prosecuting, said Mr Smith intended to deceive the authorities by submitting false nominations for candidates hoping to stand in the 2013 election for Norfolk County Council.
Council officials were said to have discovered irregularities with the forms when they attempted to input them into a computer system a few days before the 5 April deadline for nominations.
Party representatives were informed about the problem and asked to examine the papers.
"Far from being on alert, Mr Smith allowed forms with false signatures to continue to be submitted," Mr Weaver said.
The forms were taken on face value and it was not until 23 April that major concerns were raised.
Mr Smith was elected in that poll. Two other men - UKIP member Michael Monk and Daniel Thistlethwaite, who stood as a candidate in the West Flegg ward at the same election - are also on trial.
Under electoral rules, all candidates standing in council elections must obtain 10 nominations from members of the public.
Mr Monk, 60, of Freeman Close, Hopton, and Mr Thistlethwaite, 19, of Station Road South, Belton, deny one charge of making a false statement in nomination papers.
The trial continues.