Great Yarmouth election candidate trial: Not a 'witch hunt'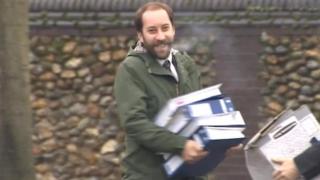 The case against a former parliamentary candidate should not be seen as a "witch hunt" against UKIP, a court has been told.
Ex-UKIP candidate Matthew Smith, 27, of High Street, Gorleston, Norfolk, denies six counts of making a false statement in nomination papers.
The charges relate to elections in the Great Yarmouth district in May 2013.
Brett Weaver, prosecuting, said any individuals from any party would be prosecuted for breaching election law.
Former parliamentary candidate for Great Yarmouth, Mr Smith, who also denies three charges of making false nominations papers, was elected a county councillor for UKIP in May 2013.
'Degree of trust'
Two other men - UKIP member Michael Monk and Daniel Thistlethwaite, who stood as a candidate in the West Flegg ward at the same election - are also on trial.
Mr Monk, 60, of Freeman Close, Hopton, and Mr Thistlethwaite, 19, of Station Road South, Belton, each deny one charge of making a false statement in nomination papers.
Mr Weaver told the court: "This is not a witch hunt against UKIP, or its supporters. It is an action against a few individuals who sought to cut corners.
"The electoral process requires a high degree of trust."
Mr Weaver outlined evidence of forged signatures on seven out of eight forms submitted by the party in that campaign.
He added: "These defendants were engaged in an electoral fraud on a significant scale either to gain election for themselves or others."
On some of the forms, more than half of the signatures were forged.
The signatures bore no relation to those of the individuals involved and it was "abundantly plain" they were fake, Mr Weaver said.
One features the name David McCulloch, who died shortly after the election. He was dyslexic and as a result signed his name with particular care.
When contacted by police, his daughter was easily able to confirm that it was not his signature, the court heard.
The trial continues.